ICT Office has started to accept application for use of COM rooms and SI room for AY 2021 from November 17th as follows.
Please note that COM rooms will be allocated by full capacity, but CALL classrooms will NOT be available in AY2021.

Please apply by following steps below:
*This questionnaire may not work with iOS(iPhone/Pad) or Android. Please answer with Windows/Mac PC.
Application Period
November 17th, 2020 (Tue.) – November 24th (Tue.)

(1) Log in to Office365 Portal Site
*You need Sophia Mail account to answer the questionnaire.

(2) After log-in, access the web site below and answer the questionnaire.
https://sophiamail.sharepoint.com/sites/sophiaportal/ictoffice/Lists/PCroomSurvey2021/overview.aspx
To answer the questionnaire, click 'Respond to this survey' link.
To see or modify your posted answer, click 'Show all responses' link.
Please make sure 'Yes' is displayed in the 'Completed' column on the right in the list. If 'No', your response is not sent to ICT Office.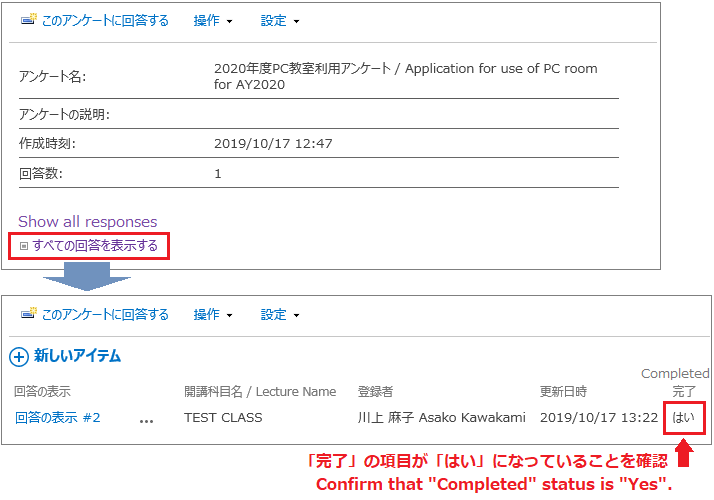 The item list which you need to fill in when you apply for use of PC rooms is below:
Screen Image :
PCroomServey2021.pdf
---

■Teacher Information
Teacher's Name
ID Number
Contract Type (Full time/Part time)
Phone Number
Email Address
The name of the person who answers this Qs on behalf of the teacher

■Lecture Information
Term
Lecture Name
Lecture Dept.
Course Category (Compulsory/Elective)
Approximate Number of Students in AY2018 or AY2019 if it was held
Estimated Number of Students
Classes per Week
Day & Period
Units of PC
(One PC for each Student/One PC for several students/Only Teacher)
Desired Classroom
Software
(Office/Web browser/Moodle etc.)
Number of usage
(Every week/Every Other week/Others)
Room type (COM/CALL/AV)
 
■Software/Facilities in COM rooms (Select from the list)
Statistics
(SPSS/Stata/AMOS/Eviews/R/Tabreau)
Actual Valuation/Chemistry/Electric Curcuit
(Mathematica/Chem Sketch/Matlab/AWR)
LINUX
(LINUX OS/X-Window/IMSL Library/Astec-X/Gaussian/Matlab)
Programming
(Visual Basic/Visual C++/Perl/Python/eclipse/Dolittle/Scratch/Starlogo/SWI-Prolog)
CAD/CAM
(Creo/MasterCAM)
Facilities
(Headphone/Sub Monitor)
Others
(CaLabo LX/Idea Tree/TypeQuick)

■Software/Facilities in AV room (Select from the list)
SI room
(Interpreting facilities/Movable chair w memo desk)

■New software, if you would like to use

■Other Comment