How to use PCs in COM rooms?
How to log in
First of all, let's log in to PC.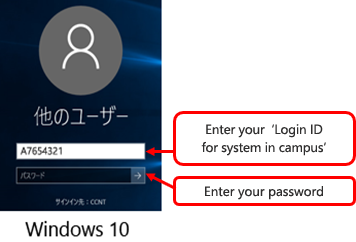 Press the power button and start the PC.
Press [Ctrl] [Alt] [Delete] simultaneously on the keyboard.
Enter your 'Login ID for system on campus' and the password written on 'Sophia ICT Account Notice' and click [⇒].
How to log off
When you leave, do not forget to log off. (You cannot lock the screen.)

Close all applications.
Double-click the [Log Off] icon on the desktop.
After "logoff of Windows" pops up, click "OK".
Documents saved outside My Folder (O:) are deleted when you log off.
My Folder
Every user who is given an account by the ICT Office is also given a personal folder.
This is My Folder (O:).

When you log off, all files and folders you made is deleted, but those saved in "My Folder" will not be deleted.
Documents must be saved in My Folder (O:).
If you save your file in the place other than My Folder (O:), such as 'Desktop', 'Library' or 'Temporary Users Folder', all documents are deleted when you log off.




↑To access your "My Folder", click "My Folder" icon.

↓For example, when you create a document in Word, save it in My Folder (O:) (the folder marked with "one's user ID $\\Winfs")

The storage capacity of My Folder is 300MB, and new data cannot be saved once the limit is exceeded.